The Benefits of Rubber Roofing Materials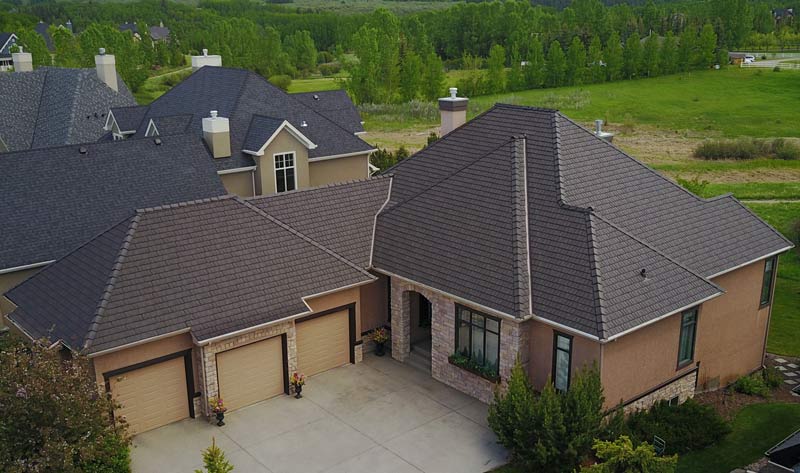 Rubber roofing materials are a modern, durable solution for your roof that can give it a longer-lasting life while staying relatively low in cost. Compared to other roofing materials, it stands out because of its relatively low cost and high strength.
In this article, we will go over some of the different types of rubber roofing materials, as well as the unique benefits of these materials. Hopefully, we can show you why it might be the right choice for your next roofing project.
Euroshield Synthetic Rubber Roofing Materials
Euroshield is an Alberta based company that makes roofing materials from recycled rubber. All of their products are produced from 95% recycled materials that typically come from recycled tires. The virgin crumb rubber material gives excellent strength and durability qualities to the roof.
Euroshield has 5 products that it manufactures:
Vermont Slate

Vermont Slate HP

Rundle Slate

Beaumont Shake

Ranchlands Shake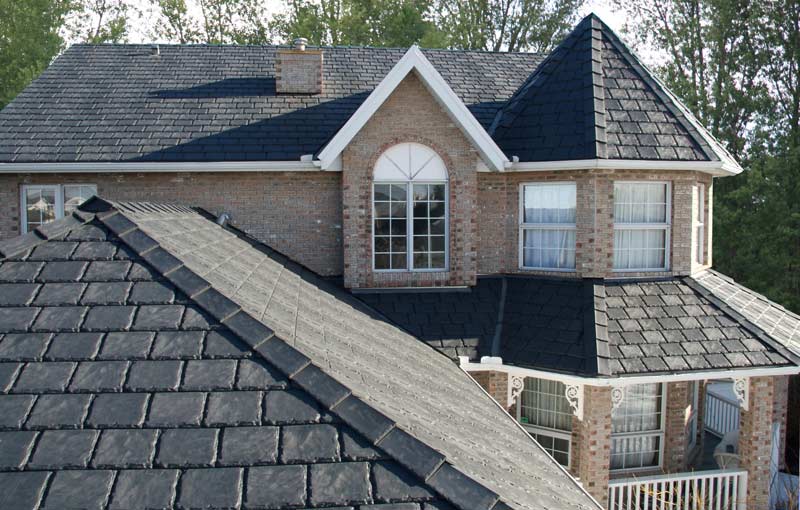 Benefits to Euroshield Rubber Roofing Materials
Euroshield roofing materials are extremely durable and are comparable in almost every aspect to traditional materials such as slate for example. Their Vermont Slate rubber roofing products nearly last as long as regular slate, without the high transportation costs, and the high-load stress that slate puts on your home.
Highly Fashionable and Stylized
Euroshield products are crafted to look nearly identical to their predecessors. This gives you the ability to have an amazing looking slate roof at just a fraction of the costs. Slate is a very expensive material to use on your home or office building but it looks absolutely stunning. With Euroshield, you can gain all of these benefits while reducing your carbon footprint and saving tons of money all at the same time.
Some Euroshield products are completely hail proof for all sizes of hail. They even have a strong warranty program in place to back up these claims. Your roof will be protected for up to 50 years under their terms against sizes of hail 2" or less in diameter, and 20 years for their hail proof products against sizes of hail 2" or higher in diameter.
They have tested their products in-house using their own ice cannon simulating hail speeds of 183-mph and received no damage. Their products have been classed with the highest official hail-proof rating in the business: Class 4 ULL2218.
Some roofing materials such as slate can put a high amount of stress on the roof itself, causing problems or not being able to be installed at all. With Euroshield products, you can have an amazing looking synthetic slate roof that doesn't put any stress on your roof's load.
Can be used on High Sloping Roofs
Unlike some rubber roof materials like PVC, Euroshield products can be used on any sloping roof.
Disadvantages to Euroshield Roofing Materials
Require additional snow and ice management
Rubber roofs in general require more snow and ice management, as the rubber can harden and become brittle, allowing for cracks to form. Once the roof has cracked and started to leak, you will need to act quickly in order to avoid water damage.
Snow and ice guards are a great addition to homes with rubber roofs. These will help manage how fast snow and ice build-up on your roof and take care of some of the hassle associated with this.
Polyvinyl Chloride (PVC) Roofing Materials
These roofing materials are a single-ply rubber membrane that is made from Polyvinyl Chloride materials.
PVC roofing materials are the third most used roofing material in the business. They bolster long life spans of about 20-30 years and are highly durable against most forms of weather. They are also highly resistant to chemicals, so commercial buildings can benefit greatly from a PVC roofing system if their business releases lots of chemicals into the roof.
Benefits to PVC Roofing Materials
PVC roofing material is highly resistant to chemicals. This makes PVC roofing materials great for commercial businesses that deal with manufacturing or have warehouse facilities that have increased exposure to chemicals. Compared to traditional roofing materials such as asphalt, chemical exposure can do a considerable amount of damage to the roof. If you are looking for a roofing product for your commercial building, PVC material might be the right choice for you.
PVC roofing membranes are extremely hard to ignite, making them a solid choice if you are looking for a fire-resistant material for your roof. It has been proven through vigorous testing that PVC material can even extinguish flames as long as the source is removed.
PVC roofing materials can last decades but you can typically expect your roof to last about 20 years. Its strength and durability are higher than comparable materials such as Thermoplastic Olefin. Hot-air welded seams allow for more resistance to moisture and form a water-tight bond that is stronger than the material itself.
Disadvantages to PVC Roofing
PVC roofing materials are considerably more expensive than its competition and can cost around $9/sq ft. on average in Canada. In comparison, TPO typically starts around $6/sq ft.
Can only be used on Low Sloping Roofs
PVC is typically reserve for flat or low sloping roofs. So if you are thinking about using PVC materials for your home, it may not be the best choice out there.
Thermoplastic Olefin (TPO) Roofing Materials
Thermoplastic Olefin or TPO roofing materials were introduced during the 1990s as a way to provide a more efficient and economical alternative to PVC roofing materials.
This type of rubber roofing material is a single-ply roofing membrane that is UV reflective and is made from polypropylene and ethylene-propylene. It's installed using strong adhesive materials and hot-air welding techniques.
Some of the unique qualities associated with this type of roofing material are the fact that it can cool down the roof better than other similar roofing materials due to its UV reflective functionality. It is known for having similar benefits to EPDM and PVC roofs but without the extra costs associated with these materials, as well as not having as many drawbacks.
The material itself is made up of 3 layers:
A TPO Polymer Base

Polyester-reinforced Fabric Center

Thermoplastic Polyolefin Compounded Top Ply
Benefits of TPO Roofing Materials
Low-cost and Economical for Residential and Commercial Projects
TPO materials are used in both residential and commercial projects because of their low-cost compared to similar rubber roofing materials such as PVC. It offers most of the same qualities that PVC allows for, at a smaller price.
TPO is manufactured in wide, lightweight sheets that allow roofing contractors to easily install this material due to there being fewer seams to deal with. The weight of the product allows for easier transportation from the ground to your roof as well. If there is less work involved, that means more savings for you.
UV-Reflective Energy Efficient Qualities
TPO reflects sunlight and allows for your home to remain cooler on hot days, reducing the cost of your energy bill and reducing your home's carbon footprint. Because of this, TPO has become a popular choice among home and business owners looking to reduce their impact on the environment.
Disadvantages of TPO Roofing Materials
Does not last as long as other roofing materials
The longevity of TPO roofing materials is questionable. It is a much newer material compared to some of its competition and its formula has been tested and redone several times since its inception. TPO does continue to get more reliable and stronger over the years, as manufacturers are constantly trying to improve the formula involved with its production, however.
Does not do well with extremely high temperatures
TPO is a durable compound but it also has some weaknesses when high-heat loads are put upon the material. Areas that can see elevated temperatures over 160-degrees Fahrenheit can result in seams becoming undone and the longevity of the roof being severely reduced. If your home is located in an area that receives lots of solar loading then it might be best to pick a different product suited for high-temperature loads.
Conclusion: Which Is The Right Roofing Material For You?
It's important to think vigorously about which roofing material you will use on your roof. This will most likely be the material you will use on your home for 30-50 years. Look at the benefits and disadvantages of each material, and come to a conclusion of which one will work best for your needs, region, and climate.
TPO, PVC, and Euroshield are all valid choices when thinking about which material to use. Just make sure to go over the specifications of each material, and compare them to your home. It's good to know that PVC and TPO are only used on low-sloping roofs and that Euroshield can be used on nearly any roof.
We hope this article helped give you a good idea of what rubber roofing products are all about, and how they are used in the industry. If you still require help deciding or need a roofing contractor to complete the work; Fortress Roofing is here to help. Just give us a call and we will be right there to help with all your roofing needs.