Should I Repair or Replace My Roof?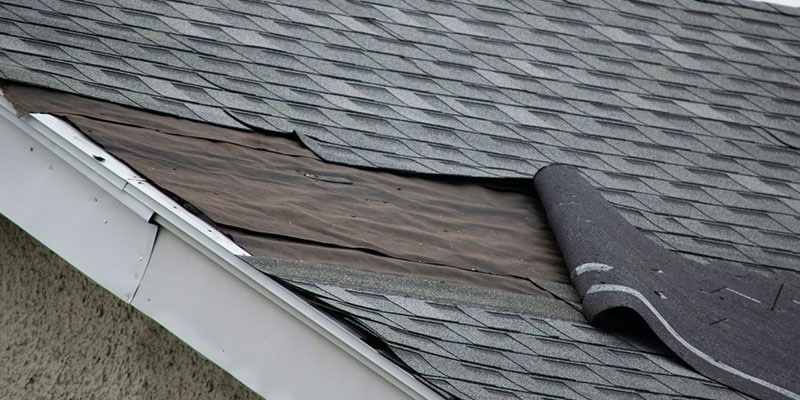 It seems to be the big debate- should I just patch the weak spot in my roof or replace the whole thing?
Some would think that repairing a roof is more cost-effective. However, in the long term, continuously repairing the problems in your roof can add up and can actually result in far more money spent than just simply replacing the roof.
Keep reading to find out the best indicators to determine if you need an entire roof replacement or a simple repair.
When to Repair Your Roof
Of course, repairing a roof is cheaper than replacing the whole thing.
Although a few missing shingles and a few leaks seem minuscule, they can lead to major damage that threatens the integrity of the entire home. After any extreme weather conditions or when you notice a few issues, contact a roofing professional to get the issues fixed before they become bigger problems.
Here are some easy signs that you need a simple roof repair:
Roof Leaks
If you notice some discoloration on your ceiling and walls or a wet spot in your attic, you most likely have a roof leak. Even before signs of water damage occur in your house if you notice missing shingles, it's only time before water damage begins.
Roof leaks can be easy fixes if they are caught early. Make sure to get them repaired as soon as you notice signs of the leak.
Missing Shingles
It's very normal that after a certain amount of wear and tear some shingles are bound to come loose. Especially after severe weather conditions, it's more than likely that a few singles got blown off.
Missing shingles, though critical to repair, aren't a definite indicator that your entire roof needs replacing.
It's a pretty simple fix for roofers to replace missing shingles. Just make sure the shingles get replaced before causing more damage.
Roofers can also check for any other possible signs on the roof that can lead to missing shingles. Especially loose shingles, broken or weather seals, and overdriven nails.
Note: replacing a few missing shingles here and there isn't a big deal. However, if you find yourself replacing shingles frequently, it may be a sign that the roof has reached its limit. Always consult a professional or get inspections to make sure your roof is up to par and to prevent costly damage.
Curling Roof Shingles
If your shingles start to bend and do not lay flat, the shingles are no longer doing their job to protect your home against the elements.
It's easy to ignore curling singles since they have yet to completely detached from the roof, however, it's just as damaging as missing shingles.
Curled shingles can lead to the roof weathering faster than it needs to and can lead to undetected costly damage to the inside of the home as well.
As soon as you see signs of curling roof shingles, make sure to get them inspected before it's too late. Better safe than sorry.
When it's time for a roof replacement.
Of course, repairing your roof is a much more affordable option.
However, you have to think of it similar to an oil change for your car. Like, how you would maintain your vehicle through tune-ups to maintain the integrity and longevity of your car.
Roof repair is the maintenance required to upkeep the integrity of the whole home until the roof hits a certain level of wear and tear and needs to be replaced.
Here are some indicators that it's time to get a roof replacement:
Age
If you have been living in a home for more than 20 years and can't remember when the roof was replaced, it's probably time.
Your roof's lifespan depends on the type of roof you have. The two most common roof materials are Asphalt Shingles and Metal Roofing:
Asphalt Roofs- is the most common commercial home roofing type. The average lifespan for Asphalt shingles is about 20 years. However, the lifetime can be shortened with Alberta's harsh climate.
Metal Roofing- Metal roofs have a much longer lifespan than asphalt shingles. The average lifetime of a metal roof can be up to 50 years before needing replacing. However, metal roofs require more maintenance or re-ply applications to upkeep the integrity and maximize the lifespan.
If you're still unsure about the age of your roof, it doesn't hurt to get a second opinion from a roofing professional to inspect the current state of your roof.
Roof Decay
Roof shingles that have hit their lifespan tend to look it. When the shingles are cracked and dried out, it creates a wavy roof structure or dips in the roof.
This is a strong indicator that there is deterioration underneath your roof.
Roof decay weakens the roof's structure and limits the amount of weight it can support. Over time, the roof won't be able to withstand simple elements such as branches falling or storms. In some cases, this can cause your roof to cave in certain areas.
This is a definite sign that the roof needs replacing.
Band-aid Roof Repairs
Many homeowners may be tempted to ignore or look for the easy fix for their roofs. However, trying to get a quick fix for major issues can result in long repair times and great damage. Don't wait until this point.
If you are unsure how severe the damage to your roof is, don't hesitate to get a professional opinion and inspection. Also, make sure your roofer is certified and trusted, like our team here at Fortress Roofing.